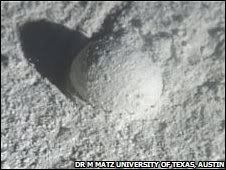 A single-celled ball about the size of a grape may provide an explanation for one of the mysteries of fossil history.

Writing in Current Biology, researchers say the creature leaves tracks on the seabed which mirror fossilised tracks left up to 1.8 billion years ago.

[snip]

Dr Matz says the giant protists' bubble-like structure is probably one of the planet's oldest body designs, and may have existed for 1.8 billion years.

"Our guys may be the ultimate living fossils of the macroscopic world," he says.