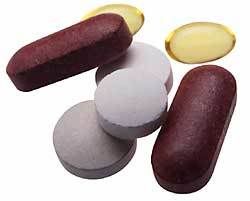 The best efforts of the scientific community to prove the health benefits of vitamins keep falling short.

[snip]

Everyone needs vitamins, which are critical for the body. But for most people, the micronutrients we get from foods usually are adequate to prevent vitamin deficiency, which is rare in the United States. That said, some extra vitamins have proven benefits, such as vitamin B12 supplements for the elderly and folic acid for women of child-bearing age. And calcium and vitamin D in women over 65 appear to protect bone health.

But many people gobble down large doses of vitamins believing that they boost the body's ability to mop up damaging free radicals that lead to cancer and heart disease. In addition to the more recent research, several reports in recent years have challenged the notion that megadoses of vitamins are good for you.