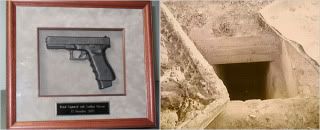 Many American presidents have kept prized possessions within reach during their White House years. Franklin D. Roosevelt cherished a 19th century ship model of the U.S.S. Constitution. One of Dwight D. Eisenhower's favorite gifts was an engraved Steuben glass bowl from his cabinet. And sitting on John F. Kennedy's desk in the Oval Office was a paperweight made from a coconut shell he had carved with a distress message after his PT-109 was sunk during World War II.

The objects have been bequeathed to the American public, accessible through a visit to each man's presidential library and museum. And so when the library for George W. Bush opens in 2013 on the campus of Southern Methodist University in Dallas, visitors will most likely get to see one of his most treasured items: Saddam Hussein's pistol.
So... just under 5000 soldiers dead and plus 30,000 maimed so Georgie can brag about getting the Mustache of Doom who dared to insult his Poppy?
Go for it, Bush. It will show you are really high class.
Update:
Think Progress
has more.
Don't psychopaths keep items of their victims?