Has Cheney finally gone to ground as the fingers begin to point to him?
WASHINGTON (Reuters) – The CIA withheld information about a secret counter-terrorism program from Congress for eight years on orders from former U.S. Vice President Dick Cheney, the New York Times said on Saturday.

Citing two unidentified sources, the newspaper said Central Intelligence Agency Director Leon Panetta disclosed Cheney's involvement in closed briefings to congressional intelligence committees late last month.

Panetta, who was named to head the agency earlier this year by President Barack Obama, ended the program, which remains secret, when he first learned of its existence from subordinates on June 23, the Times said.

Intelligence and congressional officials told the newspaper the agency began the program after the September 11 attacks and said it never became operational and did not involve CIA interrogation programs or domestic intelligence activities.

The newspaper said its efforts to reach Cheney through relatives and associates were unsuccessful.
That's the excuse the CIA is going to stand by? Cheney made us do it? ...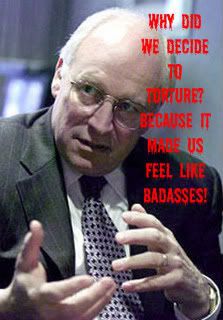 ... all righty then... works for me!