Isn't that what terrorists do?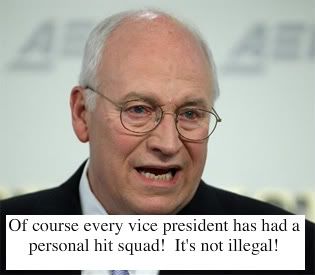 Report: CIA Assassin Program Could Operate Anywhere -- Even Inside U.S.
Since the news broke (sub. req.) at the start of the week that CIA director Leon Panetta had pulled the plug on a secret program to assassinate or capture al Qaeda leaders, we've been raising questions about one key aspect of the story. In particular, what was it about the program that was so shocking that Dick Cheney reportedly ordered it kept secret from Congress, Panetta quashed it as soon as he heard about it, and Congressional Democrats risked being painted as soft on terror by shrieking about being kept in the dark?

We may have gotten a good piece of the answer here: The Washington Post reports today on how the program had been revived and then put on hold several times since 2001. But it also says, referring to the "presidential finding" with which President Bush authorized the program in 2001:

The finding imposed no geographical limitations on the agency's actions, and intelligence officials have said that they were not obliged to notify Congress of each operation envisaged under the directive.

"No geographical limitations" presumably means that operations could potentially be carried out in countries, friendly or unfriendly, that are far from any war zone -- including even the US itself. And it seems likely that they would be carried out without notifying the foreign country in question.
Just thinking back to the days during the anthrax attacks. Remember the
odd deaths
of
an astonishing crowd of microbiologists
? If, for example, take Cheney... If he had had a hand, say... in sending militarized anthrax to governmental and news media offices... wouldn't he want that covered up?
You know it would be irresponsible not to speculate....