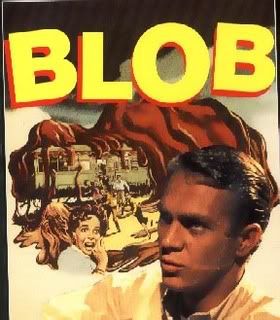 It's not Putin's rearing head...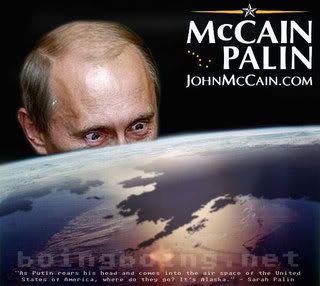 Palin's bloated ego....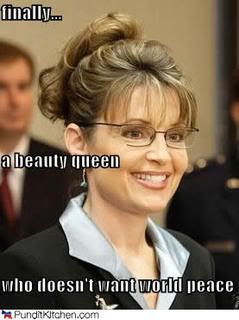 or the oozing mass of ethics violations converging upon Wasilla....
but an unheard of algae bloom...
A group of hunters aboard a small boat out of the tiny Alaska village of Wainwright were the first to spot what would eventually be called "the blob." It was a dark, floating mass stretching for miles through the Chukchi Sea, a frigid and relatively shallow expanse of Arctic Ocean water between Alaska's northwest coast and the Russian Far East. The goo was fibrous, hairy. When it touched floating ice, it looked almost black.

But what was it? An oil slick? Some sort of immense, amorphous organism adrift in some of the planet's most remote waters? Maybe a worrisome sign of global climate change? Or was it something insidious and, perhaps, even carnivorous like the man-eating jello from the old Steve McQueen movie that inspired the Alaskan phenomenon's nickname? (Read Richard Corliss' review of The Thing, a sci-fi film set in the Arctic.)

The hunters got word to the U.S. Coast Guard, which immediately sent two spill response experts to fly over the mass, which looked sort of rusty from the air. They also approached it by boat. The North Slope Borough, the local government for the vast and sparsely populated cap of Alaska, sent its own people out the main village of Barrow to have a look. They scooped up jars of the stuff for analysis in a state lab in Anchorage.

"We responded as if it were an oil product," says Coast Guard Petty Officer Terry Hasenauer. "It was described to us as an oil-like substance, thick and lingering below the surface of the water. Those characteristics can indicate heavy, degraded oil, maybe crude oil, or possibly an intermediate fuel oil." Meanwhile, the story spread over the internet like an oil-spill, giving lots of people a queasy feeling. (Check out a story about the coming battle for the resources of the Arctic.)

Test results released Thursday showed the blob wasn't oil, but a plant - a massive bloom of algae. While that may seem less dangerous, a lot of people are still uneasy. It's something the mostly Inupiat Eskimo residents along Alaska's northern coast say they could never remember seeing before.
I think this is even scarier than Palin, Putin, and the Blob put together.... visions of our future, drowning in muck where our oceans used to be.