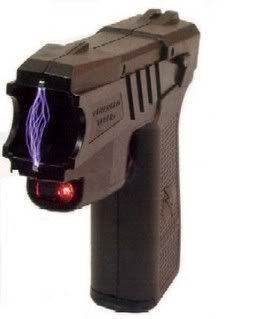 Canadians do it right:
Vancouver, British Columbia (AHN) - Former Justice Thomas Braidwood released on Thursday in a press conference his anticipated report on the use of Tasers, ending two years of inquiry on the Royal Canadian Mounted Police's use of electronic stun guns, which was highlighted by the death of a Polish immigrant who was tasered at the Vancouver International Airport in 2007.

Braidwood made 19 recommendations which were short of asking the RCMP to stop the use of Tasers. He supported the conditional use of the stun gun if major changes are made by the Mounties The Taser has been blamed for 25 deaths in Canada.

He acknowledged police officers need the best weapons to perform their duties, but warned the Taser has the potential to cause death or serious injury and may go against Canadian values. Braidwood pushed for more stringent measures to regulate the use of the controversial weapon.
So...
how many more deaths
will there be before the US law enforcement concedes that Tasers are a deadly weapon?