Try cans....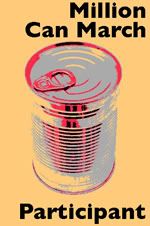 Via
Tengrain of Mock, Paper, Scissors
, Reverend Phat of Les Enragés incites us to can the poor... um.. sorry,
GIVING cans of FOOD
to the needful....
*sheesh*
Rev. Phat has
the details
.
Update: More info from Rev. Phat:
THE CHALLENGE: To collect one million cans of food for our nation's food banks, food pantries and shelters by July 4, 2009.

WHO: Progressive bloggers with a special invite to conservative bloggers.

HOW: Act locally. Here are some examples:

• Take a bag of food to a local pantry
• Organize a food drive where you work or play, your church or motorcycle club, etc.
• Organize some friendly competition amongst a group of blogs
• Challenge your Facebook & Myspace friends and your twitter followers
• There's no one right way to get involved. Look around you, see the need and do something about it.


WHAT: Nonperishable food items. Note: We've already had a cash donation to a relief agency reported (and I know this is a good way for some folks to participate) so if you report your cash donations we'll run a tally of those as well.