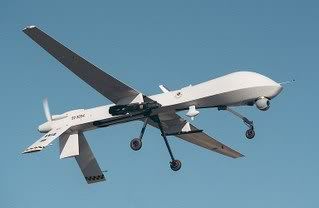 After a couple of false starts, Predator unmanned drone aircraft are scheduled to start roaming the Canadian border next week.

State and federal officials will hold a ribbon-cutting ceremony at Grand Forks Air Force Base Monday, where the first Predator arrived in early December.

That ceremonial milestone had to be delayed twice because of a maintenance problem and turbulent weather.

The Predators, unarmed versions of the aircraft being used in the Afghanistan and Iraq wars, have been patrolling the Mexican border since 2005. The Grand Forks base is the fourth of five outposts along the northern border where the aircraft will be based.
Why does this not comfort me?