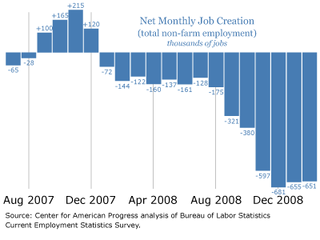 The labor market plunge continues. Employers shed 651,000 jobs in February—the largest one-month fall in employment since 1949—and total job losses have reached 4.4 million since the recession began in December 2007. More than half of these losses—2.6 million—occurred just since October after the trickle of jobs loss turned into a torrent.

The unemployment rate shot up to 8.1 percent in February, from 7.6 percent in January. There are 5 million more people unemployed compared to a year ago as the labor-market both loses jobs and fails to employ new entrants. This is the largest annual jump in the number of unemployed since the U.S. Bureau of Labor Statistics began tabulating this data just after World War II. Most of the unemployed—62.3 percent—are out of work because they lost their job, higher than any point since 1982.
I think we've been here before....