SEATTLE - Stolen laptop? Now you can tell those thieves exactly what you think of them.

Front Door Software Corp.'s Retriever program displays your contact information as your computer boots up. There's even space for a plea to a Good Samaritan — "$50 for my safe return," maybe.

In most cases, that's enough to help an honest person return the machine, said Carrie Hafeman, chief executive of the five-person company based in Evergreen, Colo.

But in the darkest scenarios, Retriever takes off the kid gloves.

You can log on to a Web site and check a box indicating the computer is missing. Now during start-up, a big yellow and red banner appears on the screen, boldly declaring the laptop lost or stolen. This message is set to reappear every 30 seconds, no matter how many times the thief closes the window.

You can remotely switch on a second password prompt if you fear the thief has also stolen your regular Windows, Macintosh or Linux login.

Behind the scenes, Retriever uses built-in Wi-Fi to sniff out nearby networks, then suss out what Internet service providers power them. With that information in hand, Hafeman said, you can file a police report and get help locating the criminal.

While waiting for law enforcement to come through, you can even let off steam by sending new messages to the nagging "Stolen Computer!" screen.

"You are being tracked. I am right at your door" was one, Hafeman said, adding that she could not bring herself to say others that came to mind. Customers have also tried to induce fear or guilt by switching their contact info to "Secret Service" and "Catholic church."

The latest version of Retriever, which costs $29.95 for three years of use, is even more aggressive.

Now, when the "stolen" screen pops up, the laptop cries for help. Use a canned message ("Help, this laptop is reported lost or stolen. If you are not my owner, please report me now.") or record your own.

"You can say, 'Get your hands off me, you S.O.B.'" Hafeman said.
Why does this article make me think of the old fairytale, Jack and the Beanstalk?: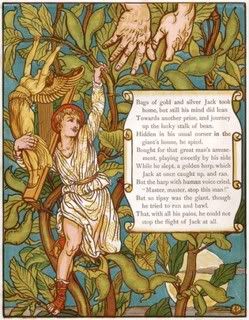 After breakfast was over, the ogre called out: "Wife, wife, bring me my golden harp." So she brought it and put it on the table before him. Then he said: "Sing!" and the golden harp sang most beautifully. And it went on singing till the ogre fell asleep, and commenced to snore like thunder.

Then Jack lifted up the copper-lid very quietly and got down like a mouse and crept on hands and knees till he came to the table when he got up and caught hold of the golden harp and dashed with it towards the door. But the harp called out quite loud: "Master! Master!" and the ogre woke up just in time to see Jack running off with his harp.

Jack ran as fast as he could, and the ogre came rushing after, and would soon have caught him only Jack had a start and dodged him a bit and knew where he was going. When he got to the beanstalk the ogre was not more than twenty yards away when suddenly he saw Jack disappear like, and when he came to the end of the road he saw Jack underneath climbing down for dear life. Well, the ogre didn't like trusting himself to such a ladder, and he stood and waited, so Jack got another start. But just then the harp cried out: "Master! Master!" and the ogre swung himself down on to the beanstalk, which shook with his weight. Down climbs Jack, and after him climbed the ogre. By this time Jack had climbed down and climbed down and climbed down till he was very nearly home. So he called out: "Mother! Mother! bring me an axe, bring me an axe." And his mother came rushing out with the axe in her hand, but when she came to the beanstalk she stood stock still with fright, for there she saw the ogre just coming down below the clouds.

But Jack jumped down and got hold of the axe and gave a chop at the beanstalk which cut it half in two. The ogre felt the beanstalk shake and quiver so he stopped to see what was the matter. Then Jack gave another chop with the axe, and the beanstalk was cut in two and began to topple over. Then the ogre fell down and broke his crown, and the beanstalk came toppling after.
I think having a laptop that clamps the lid down on the thief's fingers and won't let go would be a good thing too... Maybe we could develop something like this: