Is gone. Holy crap.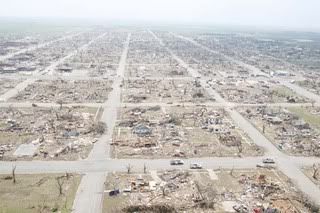 ( Jaime Oppenheimer/The Wichita Eagle)
Bryan at Why Now?
shares the link to
Jeff Masters' weather site
, where
these pictures
were found. Jeff Masters discusses the aftermath of the storms:
The severe storm action finally quieted down yesterday in Kansas and the Plains; only 11 reports of tornadoes were received, compared to 93 on Saturday and 33 on Friday. The severe weather action should stay at a slow simmer through Wednesday over the Plains; the Storm Prediction Center (SPC) has portions of the region under its "Slight Risk" area for severe weather through Wednesday. Flooding is a major concern now; most of eastern Kansas, plus large portions of Oklahoma, Texas, Missouri, Iowa, Nebraska, and South Dakota are under flood warnings. More heavy thunderstorm rains during the week are expected to add to the problem.
I think I'll stay in earthquake country....