Or not...
Journey to Pakistan's
'war zone
'. (BBC put in those quotes.)
Excellent interactive map at the BBC site: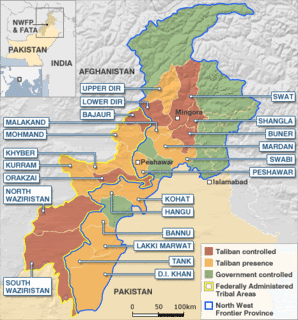 But read (listen to) what
Juan Cole and Shahan Mufti
say to Bill Moyers on his show:
BILL MOYERS: Both of you seem much more optimistic about Pakistan than I've heard many people talk about it in a long time.

JUAN COLE: That's because we lived there. It doesn't look like what it looks like on the outside. Americans think that Pakistanis are fundamentalists. And almost none of them are. You know, there are religious people, they're like Mexican Catholics. They go to shrines and pray for things. And the Taliban hate that. In fact, they attacked a shrine recently. And then there's this big urban middle class which is just growing like crazy. And they're all watching Indian movies, and dreaming about being in Bollywood. And so and then the economy has been doing good the last few years. You know, five, six, seven percent growth. I think it was the second largest growth in Asia. Of course, it's a low starting point. But I can't understand why there isn't more appreciation for the good news that's come out.

You know, in the past two years, the Pakistani public has demanded an end to a military dictatorship. On the grounds that it was violating the rule of law. They demanded free and fair parliamentary elections. They accomplished them. They voted the largest party they put in is the left of center or centrist secular party. They then went to the streets to demand the reinstatement of the secular civil Supreme Court. And you've had, really, hundreds of thousands of people involved in this movement for the restoration of democracy and the restoration of the rule of law. If this had happened any other place in the world, it would be reported in Washington as a good news story. Here, we've been told that it's a crisis. That it's a sign of instability and nuclear armed nation. I don't understand that.

SHAHAN MUFTI: That was one of the biggest moments in Pakistan in the last-- from my latest tour in the last six months. You were talking about the-- how anywhere else in the world this would have been celebrated. And, most definitely, this moment of the Chief Justice getting reinstated was the democratic moment for Pakistan, at least in the last 60 years, ever since its creation.

Because for the longest time, for decades the problem with Pakistan is that the army keeps disrupting the power balance and here the Pakistani people deliver a moment, the night that the Chief Justice got reinstated it was around 3:00 AM. And there were people gathered out, thousands of people gathered outside his house. And, in one corner, there were young students playing the guitar and singing nationalist songs.

And then the Islamists came with their flags and they were chanting, "Allah is great." And then the Justice Party people came and they were singing-- they were doing a cappella versions of nationalist songs.

And to see that all of these people had somehow come around, the absolutely secular to the very staunch Islamists, had come around this movement because they somehow, to them, it meant a step towards a stronger democracy. But only if, I think, that if the United States could find ways to engage that aspect of Pakistan.
So... do we ignore it? Panic? Or are we being manipulated yet again by government, military, and media to think of Pakistan as a volatile failing state?