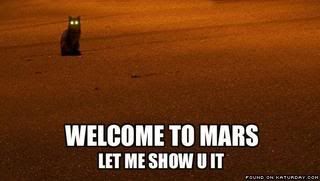 (CNN) -- NASA's Mars rovers are celebrating their fifth birthday on the Red Planet -- exceeding their original life span by four years and nine months -- with no end yet in sight to their history-making work.

The rover Spirit landed on January 3, 2004, with Opportunity touching down 21 days later.

NASA said the rovers had made important discoveries about the wet and violent conditions on ancient Mars.

They had returned 250,000 images, covered more than 21km (13 miles), climbed a mountain, descended into craters, struggled with sand traps and ageing hardware and survived dust storms, NASA said.

"These rovers are incredibly resilient considering the extreme environment the hardware experiences every day," said John Callas, Jet Propulsion Laboratory project manager for Spirit and Opportunity.

"We realize that a major rover component on either vehicle could fail at any time and end a mission with no advance notice but on the other hand, we could accomplish the equivalent duration of four more prime missions on each rover in the year ahead."
Will we be able to find our 'Can Do' spirit after eight years of rewarding incompetence and avarice? The spirit that got us to the moon?
Yes. We can.