I guess going
cute and fuzzy
didn't work
on the Iraqis
.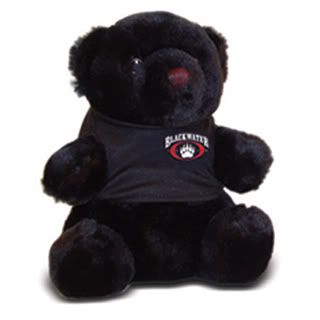 I wonder why?:
MOSUL, Iraq, Jan. 28 -- The Iraqi government has informed the U.S. Embassy in Baghdad that it will not issue a new operating license to Blackwater Worldwide, the embassy's primary security company, which has come under scrutiny for allegedly using excessive force while protecting American diplomats, Iraqi and U.S. officials said Wednesday.

[snip]

Blackwater employees who have not been accused of improper conduct will be allowed to continue working as private security contractors in Iraq if they switch employers, Iraqi officials said Wednesday.

The officials said Blackwater must leave the country as soon as a joint Iraqi-U.S. committee finishes drawing up guidelines for private contractors under the security agreement. It is unclear how long that will take. Blackwater employees and other U.S. contractors had been immune from prosecution under Iraqi law.

"When the work of this committee ends," Interior Ministry spokesman Maj. Gen. Abdul-Karim Khalaf said, private security companies "will be under the authority of the Iraqi government, and those companies that don't have licenses, such as Blackwater, should leave Iraq immediately."

The State Department said Wednesday that its contractors will obey Iraqi law.

[snip]

According to a congressional report issued in October 2007, Blackwater guards have been involved in nearly 200 shootings in Iraq since 2005.
Um... notice what I've bolded and ask yourself exactly where have they expanded? Blackwater will be showing up as crowd control (as they did in Katrina), border patrols, private armies.... These companies aren't going away anytime soon, even if they do change their corporate names.
The company has received more than $1 billion from the federal government since 2000.

In recent months, however, Blackwater has expanded its business model to rely less heavily on private security work overseas.

Though tremendously profitable, the field has generated an avalanche of bad publicity for the company and exposed it to numerous lawsuits.

The two other large security companies that protect American diplomats in Iraq are DynCorp International and Triple Canopy, both based in Northern Virginia.

Blackwater employees work under the supervision of the embassy's regional security officer. The company's drivers and bodyguards take U.S. diplomats to meetings outside the Green Zone, and its pilots often fly in small helicopters over convoys as an added security measure. The Blackwater employees live in a compound in the Green Zone that is informally referred to as "man camp." According to the October 2007 congressional report, Blackwater guards made more than $1,200 per day.

Private security contractors in Iraq last year became deeply concerned about losing their immunity with the implementation of the security agreement, which U.S. officials feared would trigger a mass exodus. But few have left. Instead, in recent months, Western private security companies have sought to build strong relationships with the Iraqi government and have hired more Iraqi guards.
It will be interesting to see where Greystone, Blackwater North, USA, or Worldwide, and all the other subsidiaries end up. Keep your eyes open. Wealthy as God, run by a fundamentalist and armed to the teeth.... Not a good combination. (Link via
Steve Bates at The Yellow Doggerel Democrat
.)