Will make them stop being angry at your mistreatment...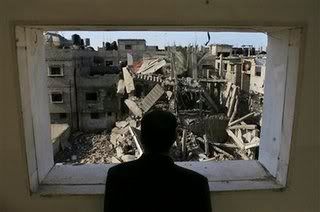 A Palestinian looks from a window at the rubble of a house destroyed in an Israeli airstrike in Rafah refugee camp, southern Gaza Strip, Saturday, Jan. 3, 2009. Israeli warplanes and gunboats blasted more than two dozen Hamas positions Saturday, targeting weapons storage facilities, training centers and homes of leaders as its offensive against Gaza's Islamic militant rulers entered a second week.
(AP Photo/Eyad Baba)
And of course, once peace has been achieved, all will be forgiven. Right?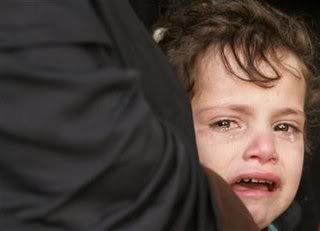 A Palestinian girl cries during the funeral of her brother who was killed after an Israeli air strike in the northern Gaza Strip January 4, 2009.
(Ismail Zaydah/Reuters)
Are the Israelis thinking they can somehow kill everyone? The mass murder of a people? Why does this sound so familiar?