Steven Benen of Washington Monthly describes Obama's adroit 'educating' of Stephanopoulos over mandatory health insurance: individual mandates:
At that point, Stephanopoulos referenced Merriam Webster's, to try to nail down a precise definition of a "tax." The president responded, "George, the fact that you looked up Merriam's Dictionary, the definition of tax increase, indicates to me that you're stretching a little bit right now. Otherwise, you wouldn't have gone to the dictionary to check on the definition."

The host added, "But your critics say it is a tax increase."

Obama replied, "My critics say everything is a tax increase."

And here endeth the lesson.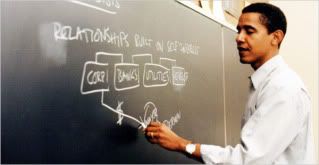 Remember, this man has taught law students, students trying to weasel out of due dates, tests and papers. He knows how to recognize and deal with bullshitters....