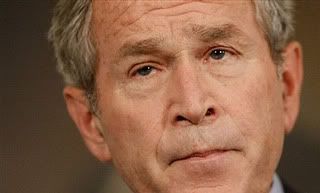 Pic stolen from
Watertiger at Dependable Renegade
. Click to go see it up close if you dare!
George W. Bush has grown old, erratic and rosy in the eight years of his presidency. Little remains of his combativeness or his enthusiasm for physical fitness. On this sunny Tuesday morning in New York, even his hair seemed messy and unkempt, his blue suit a little baggy around the shoulders, as Bush stepped onto the stage, for the eighth time, at the United Nations General Assembly.

He talked about terrorism and terrorist regimes, and about governments that allegedly support terror. He failed to notice that the delegates sitting in front of and below him were shaking their heads, smiling and whispering, or if he did notice, he was no longer capable of reacting. The US president gave a speech similar to the ones he gave in 2004 and 2007, mentioning the word "terror" 32 times in 22 minutes. At the 63rd General Assembly of the United Nations, George W. Bush was the only one still talking about terror and not about the topic that currently has the rest of the world's attention.