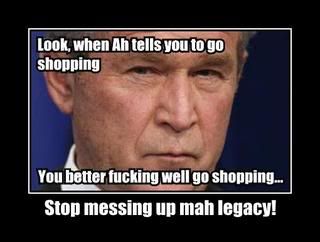 Too late:
NEW YORK (CNNMoney.com) -- Stocks skidded Monday - with the Dow, S&P 500 and Nasdaq falling to nearly five-year lows - as credit markets seized up and European governments' rush to prop up failing financial firms underscored the global reach of the credit crunch.

But the Dow Jones industrial average (INDU), which lost as much as 800 points, began cutting its losses as the market close neared. Still, it was down 491 points with 40 minutes to go.

The index hit its lowest level during a session since Oct. 24, 2003, when it touched 9,497.72.
We just needed to be more confident that the pie would keep on getting higher:
NEW YORK (CNNMoney.com) -- Former Lehman Brothers CEO Richard Fuld on Monday blamed the collapse of his firm on a "crisis of confidence" that spread throughout the banking sector.

"This was not a lack of confidence in just Lehman Brothers, but part of what has been called 'a storm of fear' enveloping the entire investment banking field and our financial institutions generally," said Fuld, in prepared testimony released by the House Committee on Oversight and Government Reform.
Stop that and be confident, dammit!
The poll found 84% of Americans polled believe that economic conditions are somewhat or very poor, with a majority, 53%, now believing the economy is very poor. That's not far off from the two-thirds of NABE economists who believe the economy is now in a recession or will enter one by the end of this year.

[snip]

...Banerji said that the increasingly grim view of the economy will by itself lead to cutbacks in spending by both consumers and businesses. That in turn will result in greater job losses and more economic pain."The fact that the majority of people believe we are going into a depression ensures that the recession will get worse," Banerji said.