We're going to see more of this: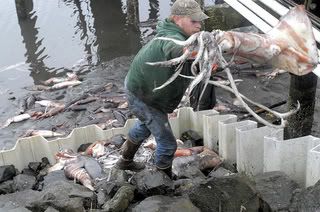 Hundreds of Humboldt squid have washed up on northern Oregon beaches in the past few days in a rare die-off attributed to their coming too far north in search of food.

The squid, about 3½ feet long, have been reported as far south as Cannon Beach. Most of the deaths, however, were reported in the Columbia River at Astoria. A number of dead squid also washed onto rocks at the boat basin in Westport, Wash., last week. Because of the large number of squid available, the Aberdeen Daily World reported the state Fish and Wildlife Department lifted its five-squid daily limit for several days.
See an amazing deep sea contact with a Humboldt squid
in this video
.