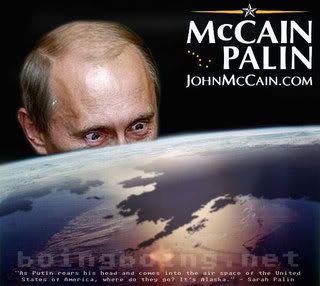 According to Palin's world view...
Update: forgot to cite Palin:
We have trade missions back and forth, we do. It's very important when you consider even national-security issues with Russia. As Putin rears his head and comes into the air space of the United States of America, where do they go? It's Alaska. It's just right over the border. It is from Alaska that we send those out to make sure that an eye is being kept on this very powerful nation, Russia, because they are right next to, they are right next to our state.
Update 10/4: I have found proof that Palin is telling us the truth! Behold the face of the evil empire above Alaskan airspace!!