All because our immigration laws allow us to do so without caring:
Ms. Nantel, the immigration agency spokeswoman, said the primary responsibility for the plight of the American children of illegal immigrants rests with parents who violated the law. "It's a challenging situation" for the agency, Ms. Nantel said. "It's unfortunate that children are impacted negatively by the decisions of their parents."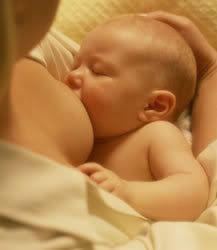 Here's what happened:
Federal immigration agents were searching a house in Ohio last month when they found a young Honduran woman nursing her baby.

The woman, Saída Umanzor, is an illegal immigrant and was taken to jail to await deportation. Her 9-month-old daughter, Brittney Bejarano, who was born in the United States and is a citizen, was put in the care of social workers.

The decision to separate a mother from her breast-feeding child drew strong denunciations from Hispanic and women's health groups. Last week, the Immigration and Customs Enforcement agency rushed to issue new guidelines on the detention of nursing mothers, allowing them to be released unless they pose a national security risk.

The case exposes a recurring quandary for immigration authorities as an increasing number of American-born children of illegal immigrants become caught up in deportation operations. With the Bush administration stepping up enforcement, the immigration agency has been left scrambling to devise procedures to deal with children who, by law, do not fall under its jurisdiction because they are citizens.

"We are faced with these sorts of situations frequently, where a large number of individuals come illegally or overstay and have children in the United States," said Kelly A. Nantel, a spokeswoman for the agency. "Unfortunately, the parents are putting their children in these difficult situations."

Yesterday, Immigration and Customs Enforcement released new written guidelines for agents, establishing how they should treat single parents, pregnant women, nursing mothers and other immigrants with special child or family care responsibilities who are arrested in raids.

The guidelines, which codify practices in use for several months and apply mainly to larger raids, instruct agents to coordinate with federal and local health service agencies to screen immigrants who are arrested to determine if they are caring for young children or other dependents who may be at risk. The agents must consider recommendations from social workers who interview detained immigrants about whether they should be released to their families while awaiting deportation.
Where are these people being taken? How long are they held in detention? Who is in charge? Does the Red Cross get to check up on them? Who is representing them? When a child is an American, aren't the parents allowed to stay in the U.S.?