No, actually we're being told
it's all a setup
and Palin will be snarky and brilliant and clever. Don't underestimate her
perkiness saving the day
.
Mad Kane
takes her down a peg:
Sarah Palin, who likes to refer to herself as "Joe Six Pack", is trying to dupe us into believing she's "an everyday, working-class American." Palin even claims that her "Joe Six Pack" status is why "the Washington elite" don't think she should be running for Veep. (Apparently it has nothing to do with her making Dan Quayle look like a genius and George Bush look coherent.)
They want us to think she'd be fun to have a beer with? ... Didn't they say that about the last guy?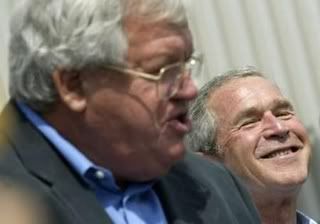 Eureka Springs of Firedoglake
:
You might be an idiot if:

• You nominate the former head of The Harper Valley P.T.A. to be Vice President of the United States.

• You keep meeting up with Katie Couric.

• You graduated with a degree in journalism, but can't name one newspaper you've read.

• You don't understand the source or value of your husband's Union provided health care benefits.

• You think your friend of 30 years "made a choice" to be gay.
This is going to be interesting...