You turn to the states to make good:
Los Angeles, CA (AHN) - Seven U.S. western states and four Canadian provinces unveiled Tuesday a regional climate initiative that will cut greenhouse gas pollutants through an emission trading system.

Under the so-called Western Climate Initiative, Arizona, California, Montana, New Mexico, Oregon, Utah and Washington as well as the Canadian provinces of British Columbia, Manitoba, Ontario and Quebec will issue industries permits to pollute but with a cap. The permits could then be traded by the industries among themselves to cheaply cut greenhouse gas emissions.

The initiative also allows participating states and province to offset emissions by planting trees or capturing landfill emissions, which are considered cheaper alternatives than installing expensive equipment to cut fossil fuel burning or switching to cleaner power.
The Western Climate Initiative
.
The Los Angeles Times
:
"We're sending a strong message to our federal governments that states and provinces are moving forward in the absence of federal action," said California Gov. Arnold Schwarzenegger, adding that the effort would spur renewable energy development and create "green jobs."

California, which passed a landmark global warming law in 2006, is well on its way to curbing emissions. But other states and provinces will have to overcome opposition in legislatures and from influential businesses. And several states have yet to sign on, including Nevada, Idaho, Colorado and Wyoming. Nevada has the fastest-growing population in the nation, and Colorado and Wyoming are booming energy states.

The plan also relies on a complex trading system in which businesses can buy and barter their way out of trimming emissions. Europe has instituted a carbon market, but not without some controversy. And many economists say that a tax on carbon would be a more efficient way to reduce global warming.



The initiative comes as studies suggest that climate change is taking a toll on the Western region of the U.S. and Canada. Scientists say that without dramatic cuts in the global burning of fossil fuels, Western states will suffer disproportionately from water shortages, severe wildfires, coastal flooding and species die-offs.

The Western plan covers about 20% of the U.S. economy and more than 70% of the Canadian economy, affecting power plants, industrial facilities and transportation, among other economic sectors. The seven states are Arizona, California, Montana, New Mexico, Oregon, Utah and Washington. The Canadian provinces are British Columbia, Manitoba, Ontario and Quebec.
Gee. Even our local politicians recognize that before their state begins to look like this...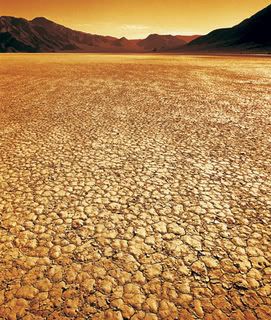 ...people are expecting them to do something. NOW. As in immediately.
Thank you, Governor Gropenator, sir.