When he'd party at the frat house until just before the final, then cram furiously for the test. Explains why he was a 'gentleman's C student':
Iraq report card: only 3 of 18 benchmarks met.
On the one year anniversary of President Bush's State of the Union address justifying his "New Way Forward" in Iraq, Center for American Progress has compiled an "Iraq Benchmark Report Card" showing that "the surge has failed to meet its objectives" as "the Iraqi government has only met three of the 18 benchmarks laid out last year."
This time you get an F, Georgie. The surge is a dud, the war is a disaster. And it happened on your watch and during your presidency. This is your legacy and yours alone.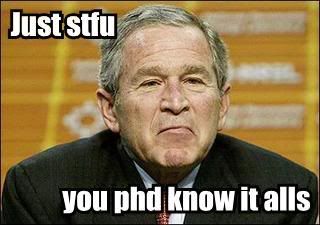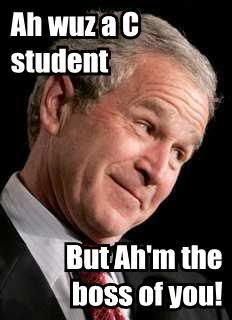 Update: Oh, and by the way, the surge was supposed to bring different sides together. All that press about the meeting? What meeting?:
WASHINGTON, Jan. 24 Negotiations are not taking place in Baghdad on the controversial oil law and other oil disputes, contrary to previous news accounts.

UPI confirmed that a top U.S. State Department official tasked with moving the oil law forward is in Washington, not Iraq.

A number of Iraqi media had reported that a delegation from the Kurdistan Regional Government was in Baghdad meeting with top national oil officials in an effort to find agreement on the stalled oil law.

Al Mowaten newspaper quotes a KRG spokesman that the region's oil minister is in Baghdad. But the paper also quotes a Kurdish member of the national Parliament Mahmoud Othamn said there's no such meeting taking place.