George Bush being an anomaly, I mean...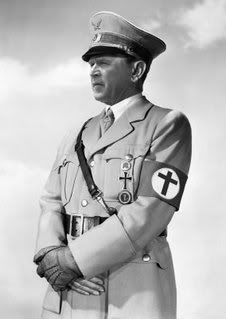 Scholars who study the role of religion in politics now say it is possible that the Bush years were an anomaly and that evangelicals, of whom religious conservatives are only a subset, could find themselves back where they were before — divided among themselves and just one of many interest groups vying for attention.

"It's not so much that evangelicals are more divided than they were before, it's that Bush himself was a unique candidate," said Corwin E. Smidt, director of the Henry Institute for the Study of Christianity and Politics at Calvin College, an evangelical school in Grand Rapids, Mich. "It's partly going back to previous patterns."

And that stings. Religious conservatives were alarmed last month when none of the Republican front-runners showed up for the Values Voter Debate Straw Poll in Fort Lauderdale, Fla. More than 40 groups, some of them major organizations known for their capacity to mobilize voters, had put together the event. Questions were directed even at the no-show candidates, and many of those questions were angry.

"Beyond their cowardice, there's an arrogance on the part of these candidates," said Janet L. Folger, the president of Faith2Action, who helped organize the debate. "The arrogance is this: 'We are just taking your votes for granted. You have nowhere else to go.' "
The fundamentalists have tasted power, walked in the halls of government, had conversations with the ruling elite. They will not go quietly. They were this close!
But then, we have politicians still getting into verbal contortions to win their votes:
JOHN McCAIN was not on the campus of Jerry Falwell's Liberty University last year for very long — the senator, who once referred to Mr. Falwell and Pat Robertson as "agents of intolerance," was there to receive an honorary degree — but he seems to have picked up some theology along with his academic hood. In an interview with Beliefnet.com last weekend, Mr. McCain repeated what is an article of faith among many American evangelicals: "the Constitution established the United States of America as a Christian nation."

[snip]


The founders were not anti-religion. Many of them were faithful in their personal lives, and in their public language they evoked God. They grounded the founding principle of the nation — that all men are created equal — in the divine. But they wanted faith to be one thread in the country's tapestry, not the whole tapestry.

In the 1790s, in the waters off Tripoli, pirates were making sport of American shipping near the Barbary Coast. Toward the end of his second term, Washington sent Joel Barlow, the diplomat-poet, to Tripoli to settle matters, and the resulting treaty, finished after Washington left office, bought a few years of peace. Article 11 of this long-ago document says that "as the government of the United States is not, in any sense, founded on the Christian religion," there should be no cause for conflict over differences of "religious opinion" between countries.

The treaty passed the Senate unanimously. Mr. McCain is not the only American who would find it useful reading.