Is the group who continually tells us to be afraid.

Paul Krugman
:
...there isn't actually any such thing as Islamofascism — it's not an ideology; it's a figment of the neocon imagination. The term came into vogue only because it was a way for Iraq hawks to gloss over the awkward transition from pursuing Osama bin Laden, who attacked America, to Saddam Hussein, who didn't. And Iran had nothing whatsoever to do with 9/11 — in fact, the Iranian regime was quite helpful to the United States when it went after Al Qaeda and its Taliban allies in Afghanistan.

Beyond that, the claim that Iran is on the path to global domination is beyond ludicrous. Yes, the Iranian regime is a nasty piece of work in many ways, and it would be a bad thing if that regime acquired nuclear weapons. But let's have some perspective, please: we're talking about a country with roughly the G.D.P. of Connecticut, and a government whose military budget is roughly the same as Sweden's.

Meanwhile, the idea that bombing will bring the Iranian regime to its knees — and bombing is the only option, since we've run out of troops — is pure wishful thinking. Last year Israel tried to cripple Hezbollah with an air campaign, and ended up strengthening it instead. There's every reason to believe that an attack on Iran would produce the same result, with the added effects of endangering U.S. forces in Iraq and driving oil prices well into triple digits.
So this group of Neocons who knew that attacking Iraq would be a slam dunk and we'd be wallowing in candy and flowers is pushing for an attack on Iran. Just a quick fly over. A few bombs. No problem.
So what will happen AFTER our bombing raid on Iran? You know.... an exit strategy? A Plan B for those unexpected things that happen when you attack a sovereign country?
Do they really expect Iran, the Islamic countries, the world to just stand there after we do this? Have they really given it ANY thought at all?
Or do they really really want to start WWIII?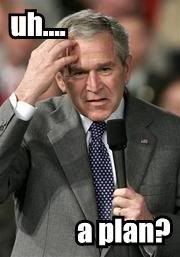 Update:
Phoenix Woman of Firedoglake
and
Bryan of Why Now?
show the world reaction to Bush's beating of the war drums over Iran.