Six years, huh? Whaddya expect for
400 million dollars
, anyway?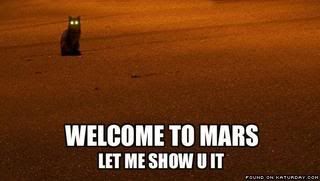 After six highly successful years of exploring the red sands of Mars, NASA's rover Spirit will rove no more.

With its six wheels stuck in powdery sand and two wheels no longer working, the resilient little explorer will become a fixed, immobile scientific observatory -- if it can survive the harsh temperatures of the upcoming winter.

"Its driving days are likely over," Doug McCuistion, director of NASA's Mars Exploration Program, said in a telephone news conference Tuesday. "Its contributions will continue" if it can be re-awakened after what could be a six-month hibernation during the Martian winter.

If Spirit can be resuscitated, researchers will use it to attempt to answer one of their most pressing questions: whether the planet has a solid iron core or a liquid one.