How are our friends in Pakistan, Afghanistan and Turkey doing?
ISLAMABAD, Pakistan - The government yesterday banned demonstrations in Pakistan's capital, the latest effort to quell mounting political turmoil over President Pervez Musharraf's decision to suspend the chief justice.

Thousands of Pakistanis have joined protests since the March 9 ouster of Chief Justice Iftikhar Mohammed Chaudhry, accusing Musharraf of trying to sideline the independent-minded judge before elections this year. Riots erupted last month when authorities stopped Chaudhry from leading a demonstration in the city of Karachi, leaving more than 40 people dead.

Musharraf, facing his deepest political crisis since taking power in a 1999 coup, emerged from a meeting with top military officers yesterday with a strong affirmation of their support.

The military denounced a "malicious campaign" against the government "by vested interests and opportunists who were acting as obstructionist forces to serve their personal interests and agenda even at the cost of flouting the rule of law." It said Musharraf assured the military that no one would be able to destabilize Pakistan.
Hmm. Thousands in the streets protesting? The army will take care of them. Next? How are our friends in Afghanistan?
The warriors of northern Afghanistan, whom former US ambassador Zalmay Khalilzad thought he had astutely mothballed and consigned to the dustbin of history, are reappearing in the Amu Darya region that borders Uzbekistan.

[snip]

A Pandora's box of northern Afghanistan's ancient ethnic and tribal rivalries may have opened.

[snip]

The Taliban are evidently adopting a new strategy. After registering their presence in a vast swath of land in the south almost up to the approaches to Kabul city, they are beginning to commit attacks in the north. From all accounts, the suicide bomber who attacked the German troops was a Taliban activist. The attack took place in the busy market center of Kunduz. Three German troops were killed; five were wounded seriously and were airlifted to Cologne for medical treatment, apart from seven Afghan civilians who were killed and 13 wounded.


[snip]


Der Spiegel assessed that Berlin is mulling its role, and might well decide to withdraw from Operation Enduring Freedom. The point is, there is no possibility in sight for increasing Germany's troop levels if the situation were to deteriorate on the ground in northern Afghanistan.


[snip] Meanwhile Russia stirs.


Beyond this factor lies the geopolitics of the "new cold war". Certainly, Russian policies in the Central Asian region have shifted gear in recent months in response to the US decision regarding missile-defense deployments in Russia's neighboring regions. (Chinese criticism of the US missile-defense deployments has also become frequent and focused.)


[snip]

NATO activities in Afghanistan are under close Russian scrutiny. Moscow has openly begun voicing criticism of the US-led NATO policies toward Central Asia. CSTO secretary general Nikolai Bordyuzha said while on a visit to Bishkek last week that NATO has been pursuing a "policy of projecting and consolidating its military-political presence in the Caucasus and in Central Asia". He spoke of "external challenges and risks that undermine stability in the post-Soviet space", which are emanating out of the "growing activities of extra-regional structures, primarily NATO, the European Union and third countries".

Bordyuzha singled out Washington's "Greater Central Asia" policy, which envisages Afghanistan as the hub of the US strategy toward Central Asia. He criticized this as an attempt to drive a geopolitical wedge between regional states on the one hand and Russia and the CSTO on the other. Bordyuzha said, "This is an attempt to reorient the Central Asian states towards cooperation with the United States in a new format, encompassing, besides the Central Asian states, Afghanistan and Pakistan, and in the future, India."
Ok. Afghanistan has incoming tribal wars and Russia is licking its chops. Let's go visit Turkey!

DAMASCUS - Beleaguered Iraqi Prime Minister Nuri al-Maliki, who could be days away from losing US support and with it his job, is seeking renewed Kurdish support, even expressing his full backing for the Kurds in a potentially disastrous confrontation with Turkey.

This move could strengthen his position in internal Iraqi politics, but it looks like political suicide on the regional level, as in addition to Turkey, Iran and Syria, key players in resolving Iraq's problems, have Kurdish concerns.

The situation on the border has become so tense that US Defense Secretary Robert Gates this weekend cautioned Turkey against a military operation inside northern Iraq to attack outlawed Kurdistan Workers' Party (PKK) bases there.

Turkey is concerned at the emergence of a Kurdish state in northern Iraq and the presence there of the PKK, from where it launches attacks on Turkey.

Well, at least we're friends with China. Right? Right?
COLUMBUS, Ohio - Early this year, when China blasted one of its satellites into thousands of little pieces, it was condemned by Washington as a provocative act. But some arms-control experts believe Beijing was baring its teeth to send the White House a different message. They say that China, which has consistently opposed the weaponization of space, is hoping to negotiate an arms treaty that would rein in both nations' growing arsenal of so-called "space weapons".

Just days after the anti-satellite (ASAT) test, on January 27, Beijing seemingly had its answer. On the west shore of the Hawaiian island of Kauai, the United States' ground-based Terminal High Altitude Area Defense (THAAD) shot down a dummy ballistic missile over the South Pacific as it skirted the edge of space roughly 110 kilometers high.
Hmm. Just keep Bush and Cheney at home and don't let them do any more of this shock and awe diplomacy.
Oh No!
WASHINGTON (AP) -- Sharp differences between the United States and Russia over President Bush's plan to build a missile defense system on Moscow's doorstep are likely to dominate talk during Bush's European tour.

Bush, who left Monday at the start of an eight-day trip to the G-8 summit of industrialized nations and visits to half a dozen countries, will see President Vladimir Putin at the summit in Germany later this week. It likely will be a difficult talk; relations between Washington and Moscow are strained almost to the breaking point, and Putin has been harshly critical of U.S. foreign policy.

Bush's message in advance of the trip has been to calm down, reminding Russia that "the Cold War is over." As if to drive home that point, Bush was bookending his summit stay with calls on the Czech Republic and Poland, former Soviet satellites where he wants to base major parts of the new defense shield.

Talking to reporters aboard Air Force One Monday en route to Prague, national security adviser Stephen Hadley acknowledged that "there has been some escalation in the rhetoric."
Oh dear God. We've seen what Bush does when he's with other world leaders....
Talking with his mouth full...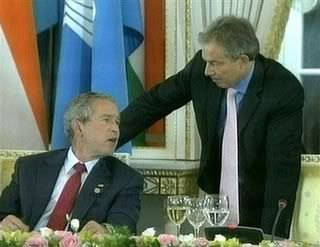 Waving stuff in front of Putin with his soulful eyes....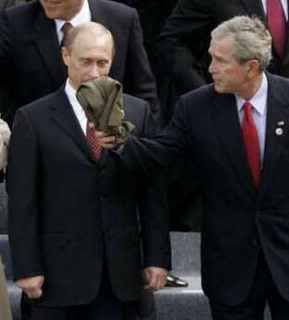 Unrequested shoulder massages....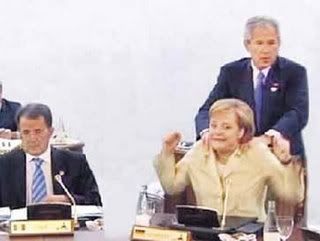 Intelligent conversation at the last G8 summit exposing his awareness of geography and diplomatic finesse...
Mr Bush displays his trademark informality joking with leaders about their journey home. "Yo Blair, how you doin'?" he says at one point. "You leaving?"

"You get home in eight hours?" he says to another leader. "Me too! Russia's a big country and you're a big country. Gotta go home. Got something to do tonight."

"Thanks for the sweater," he says of his 60th birthday present from the prime minister. "Awfully thoughtful of you. I know you picked it out yourself."

The tone of America's public debate is far more rarefied than Britain's, and Mr Bush has over the years been careful to avoid being overheard swearing. The last time he was caught out in such a way was six years ago, before he was in the White House when he was overheard describing a New York Times correspondent as a "major-league asshole".

He may not be too concerned at this latest slip, given that the target of his abuse was Hizbollah, one of Middle America's oldest villains. When Vice President Dick Cheney used far stronger language in 2004 telling a Democratic congressman to leave him alone, opinion polls suggested many on the Christian Right approved.

The recording also picks up Mr Bush speaking to other leaders, bantering about his preference for Diet Coke, and making clear his irritation at the formalities of summitry.

The thought of making an after-lunch farewell toast clearly does not appeal - nor does the prospect of listening to fellow leaders some of whom he clearly thinks are far too in love with the sound of their own voices. "I'm just going to make it up. I'm not going to talk too damn long like the rest of them. Some of these guys talk too long."
We are so fucked.