Sorta like this kitty: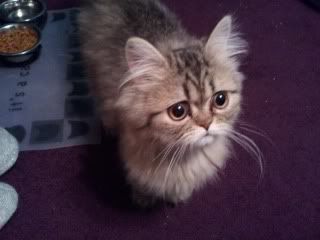 Making the rounds on Facebook: Charlie Chaplin's final speech in the 'The Great Dictator':
Banks actually just a bit concerned about Occupy Wall Street protesters.
As they should be
. Also, the squidding of
Goldman Sachs
.
I KNEW my fascination
with bees had something to do with brains
.
Cool new idea to
sterilize hospital rooms
.
Monsanto's genetic food being rushed to market:
Under Industry Pressure, USDA Works to Speed Approval of Monsanto's Genetically Engineered Crops
. And childhood obesity be damned,
food giants fight proposed nutrition guidelines
.
Looks like Beijing is copying the pea-soup fogs of Jack the Ripper's era:
Beijing air goes from 'hazardous' to off the charts, literally
The Republicans'
radical embrace of nullification
.
The trial of
Bradley Manning
.
Keeping an eye on the
radiation levels in Japan
.
Incoming
water wars
.
How doctors choose to die
when they know the options available.
All this might not matter. The melting of the permafrost in the Arctic is releasing huge quantities of methane: