The Chicago traders, confronted by the protesters' "We are the 99 percent" message, crafted their own not-so-subtle reply, hanging signs in eighth-floor windows that said, "We are the 1%"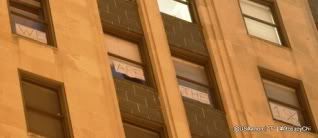 You guys, you do know that buildings can come down just as easily as they went up, right? Way to galvanize the pitchfork and torch mob.
And realize, you will have to walk down on the pavement with the 99 percent one of these days....