And the twitchy trigger fingers of the police: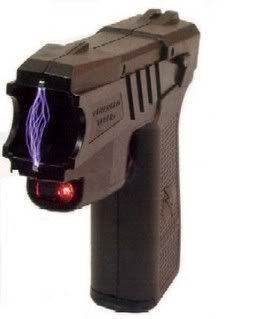 A federal appeals court on Monday issued one of the most comprehensive rulings yet limiting police use of Tasers against low-level offenders who seem to pose little threat and may be mentally ill.

In a case out of San Diego County, the 9th U.S. Circuit Court of Appeals criticized an officer who, without warning, shot an emotionally troubled man with a Taser when he was unarmed, yards away, and neither fleeing nor advancing on the officer.

Sold as a nonlethal alternative to guns, Tasers deliver an electrical jolt meant to subdue a subject. The stun guns have become a common and increasingly controversial tool used by law enforcement.

There have been at least nine Taser-related fatalities in the Sacramento region, including the death earlier this month of Paul Martinez Jr., an inmate shot with a stun gun while allegedly resisting officers at the Roseville jail.

As lawsuits have proliferated against police and Taser International, which manufactures the weaons, the nation's appellate courts have been trying to define what constitutes appropriate Taser use.