Are appearing in Europe and in North America:
The first poison of this type was called warfarin, which became available in 1953. It has many advantages, but also one decisive disadvantage: Just a few years after its introduction, rats capable of surviving their warfarin snack showed up in Scotland. The population's DNA had mutated so that blood coagulation was not affected by the poison. Today, resistant brown rats exist in several parts of Europe as well as in North America. Many of these rats are immune to both warfarin and some of the more recently developed agents.

"We've discovered the mutants in some areas of Germany as well," says Hans-Joachim Pelz from Germany's Federal Biological Research Center for Agriculture and Forestry. The area where resistant rats are thought to live stretches from the northern edge of the Ruhr area to southern Emsland in the Lower Saxony region. Its western edge extends into the Netherlands. "That was the extent of our knowledge at the end of the 1990s, at least," says Pelz. The super-rats have continued to spread since then, and rats resistant to commonly used poisons have now also been found in Hanover and Hamburg.
It is all part of their ingeeeeeenious plan! Today the sewers, tomorrow the world! Muhahahaha!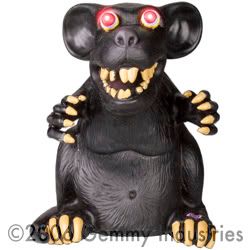 Update May 3, 2009:
The British Pest Control Association (BPCA) is calling on the Government to allow the use of more powerful pesticides to contain Britain's growing rodent population.

It is estimated that their numbers have swelled by 13 per cent in the past year to more than 50 million, one for every person living in England.

Infestations in some towns and cities have reportedly doubled in the past 12 months. Exeter council has seen a 66 per cent rise in vermin call-outs in 2008, while there was a 40 per cent rise in Salford.

The BPCA says the situation has also escalated in two Berkshire towns, which it has not named, because the local rat population is now almost completely resistant to the standard poisons.

[snip]

Pest control experts want the law changed so that two powerful rodenticides, brodifacoum and flocoumafen, can be applied outdoors. Currently their use is only allowed inside properties.

Other EU countries allow the use of the powerful poisons outside, but there is concern this endangers birds and pets.

Rats and mice are capable of spreading more than 35 diseases, including a fever inducing nausea and muscle aches passed to humans either via a bite or the rodent's urine.