This is my 7002nd post on this blog. Is that a lot? I don't talk too much, do I? What do you think? Do I? Could it be that I post a lot because politics and news and war are relentlessly bad and I can't stand it and I must say something or my head will blow off and then there'd be a mess at my computer and we couldn't have that so I must rant and complain loudly? And often.
I dedicate the seven thousand and two post to zombie bees.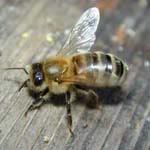 Poor bees. First we poison them with pesticides and they get Colony Collapse Disorder and now they have
zombie-making parasites
. Apparently we really do want to destroy humanity... bees first.