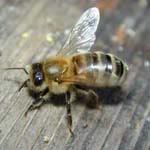 Hives bigger, killer bees meaner this year, say experts after attacks

Are the killer bees meaner than ever in 2011? The Killer Bee Guy thinks so.

They're much more ornery this year, according to Reed Booth, also know as The Killer Bee Guy. "This is the worst I've seen in 10 years," Booth told CNN affiliate KOLD-TV in Tucson this week.

Booth spoke after taking out a 200-pound hive of a quarter-million killer bees on a Bisbee farm earlier this week.

[snip]

"This year we've had more large hives than we've ever had," said Kevin Hodgson, of The Beekeeper, an extermination service in the Phoenix area. "Consistently these hives are bigger than they've been in recent years," Hodgson told KPHO.

Booth won't dispute that.

"It's been a record year for big, mean hives," willcoxrangenews.com quotes Booth as saying.