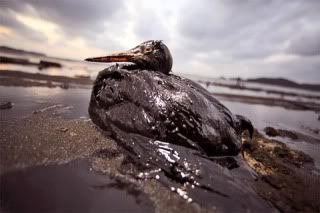 Fishermen Report Illness From BP Chemicals
Toxicologist Says Chemicals Harmful, Can Lead To Death
So, BP does what?
BP continues to use toxic dispersant
And is BP afraid of the decades of pending lawsuits? Not if you look at the history of the
Exxon Valdez spil
l and:
Since 1990,
oil and gas companies have donated $238.7 million to candidates and parties, with 75% of the money going to Republicans.
What the Gulf of Mexico's shorelines
are going to look like for decades to come.
And many have realized what this will mean for the sea creatures that live in the Gulf of Mexico: