South Dakota
teeters on the edge of an actual theocracy.
Doubting
Clarence Thomas
.
How the Rich Soaked the Rest of Us
Scott Walker is a Kochhead
.... And more from Jim Hightower:
The Birchite billionaire Koch brothers and Walker, their gubernatorial hatchet man in the Badger State, have unwittingly done a tremendous favor for our country's progressive movement. Thanks to them, America's workaday majority has been awakened. With eyes wide open, middle-class working folks everywhere now have their attention riveted on Wisconsin, where a plutocratic, autocratic conspiracy between uber-wealthy corporate elites and obsequious GOP politicos has raised its ugly head for all to see.
Boehner is
against net neutrality
. Is the man 'for' anything ... besides cutting taxes?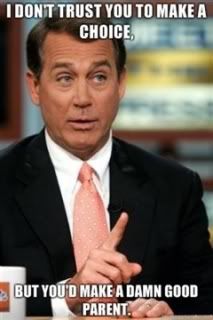 This answers that question...