Demands to be taken to our leader...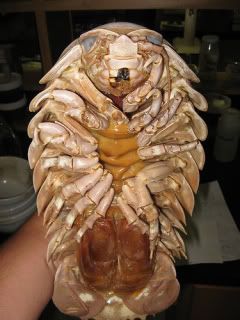 Ol' Bart attached itself to a submarine that was exploring the ocean floor. When the sub surfaced, people got an unexpected look at the slithery stowaway. The creature is a pinkish in color, two and a half feet long, and wouldn't be out of place in an Ed Wood movie (no offense, Bart).

The story was originally posted on Reddit by a guy who works for the submarine company. It quickly went viral from there. Once news of the creature's existence hit, Web searches immediately soared. Online lookups for "sea creature found," "giant isopod," and (our personal favorite) "terrifying sea creature" all roared.

It's worth noting that the existence of the Bathynomus giganteus isn't, in and of itself, a surprise. Scientists have long been aware of them. The shock came from seeing one up close in all its cockroach-like glory.
Looks like an overgrown
sowbug
if you ask me...
OMG! Sowbugs are the alien minions of Ol'Bart!!11! We've already been overtaken! Aaaaahhh....
The most important question to ask though.... is it good to eat?