A miner found a 143-carat diamond in a river in the north-eastern Democratic Republic of Congo (DRC) and sold it for $1,4-million, an industry official said on Friday.

Amos Maseko discovered the stone in a river near Banalia, 129km north of Kisangani, where usually only diamonds of between one and three carats are to be found, the president of the Congolese Federation of Gold and Diamonds, John Tokole, said.
I'd just be extra careful...
Eugene, OR (AHN) - A man who was shot in the head while snorkeling in a river is in good condition after surgery to remove bullet fragments. John William Cheeseman was apparently mistaken for a swimming rodent by a hunter.
I realize that Oregon is no where near the Congo, but still, you could even be mistaken as one of these terrorists: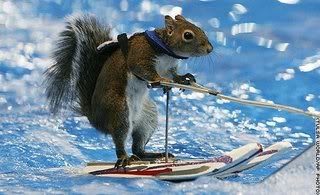 Photo stolen from Why Now?